BUD ANDERSON
WW2 Triple Ace
Clarence Emil "Bud" Anderson is a 101 year old USAF triple ace of WW2. Credited with 16.25 aerial victories, Bud was one of the most successful pilots to fly on the legendary P-51 Mustang. He joined the US Army as an Air Cadet in January 1942 before deploying in November 1943 to England. He joined the 357th Fighter Group and found himself at the command of a P-51 Mustang that he nicknamed "Old Crow". His first official combat mission took place on February 5th 1944 with his first aerial victory taking place in March 1944 against a Bf-109 over Berlin. His most successful day took place on June 29th with 3 Fw-190s victories in a single day.

Post-WW2, Bud Anderson found himself as Director of Operations for the 58th Fighter-Bomber Wing from 1955 to 56. He equally took part in the Vietnam War as a fighter-bomber pilot and flight wing commander in 1970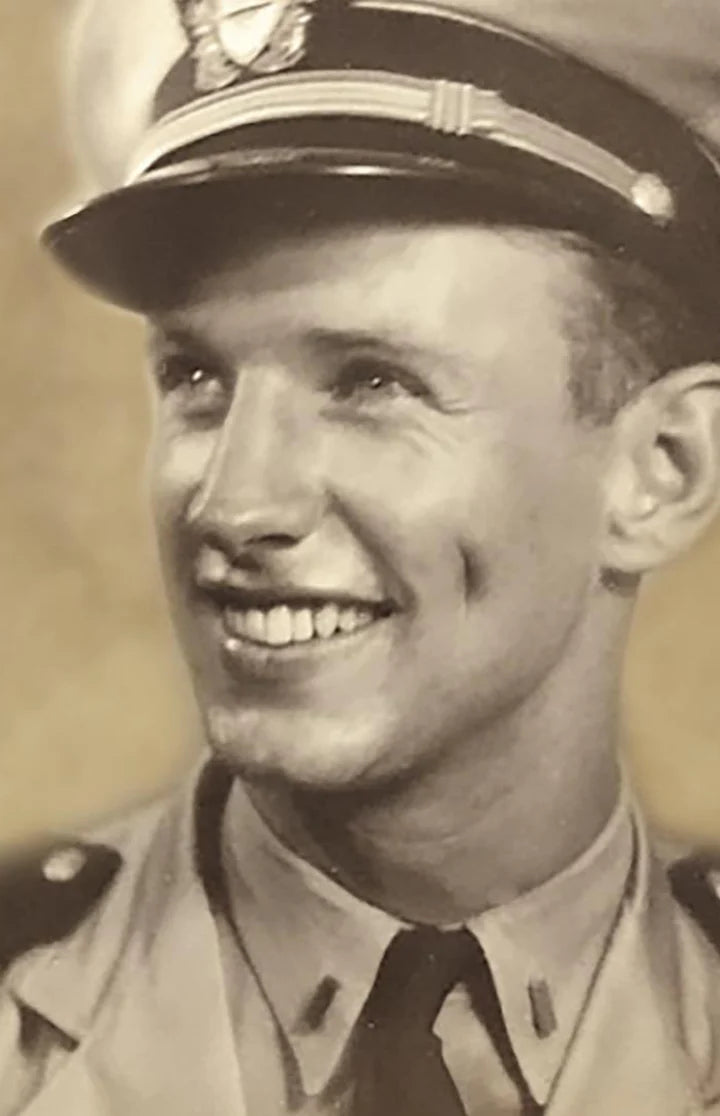 DIZ LAIRD
Ace Of Two Oceans
Dean Samuel "Diz" Laird was a WW2 US Navy carrier-based fighter pilot and, the only US Navy Ace to have combat victories in both the Pacific & Atlantic Ocean with a total of 5.75 aerial victories. Also known as the "Ace of Two Oceans", Diz Laird piloted both the F4F Wildcat & F6F Hellcat to great effect throughout WW2

 Diz became a Naval Aviator on October 21st 1942 subsequently flying combat missions in Europe before joining the Pacific Ocean Fleet. A notable highlight of his career was his crash-landing on the deck of the USS Essex after his F6F sustained heavy damage and was unable to lower its landing gear. He continued to serve in the US Navy in both the Korean & Vietnam War.

 Diz Laird passed away on August 10th 2022 at 101 years old. He participated actively in the design and conception of the A-2 Diz Laird Edition before passing. This piece is launched in commemoration of his heroism & to perpetuate his memory.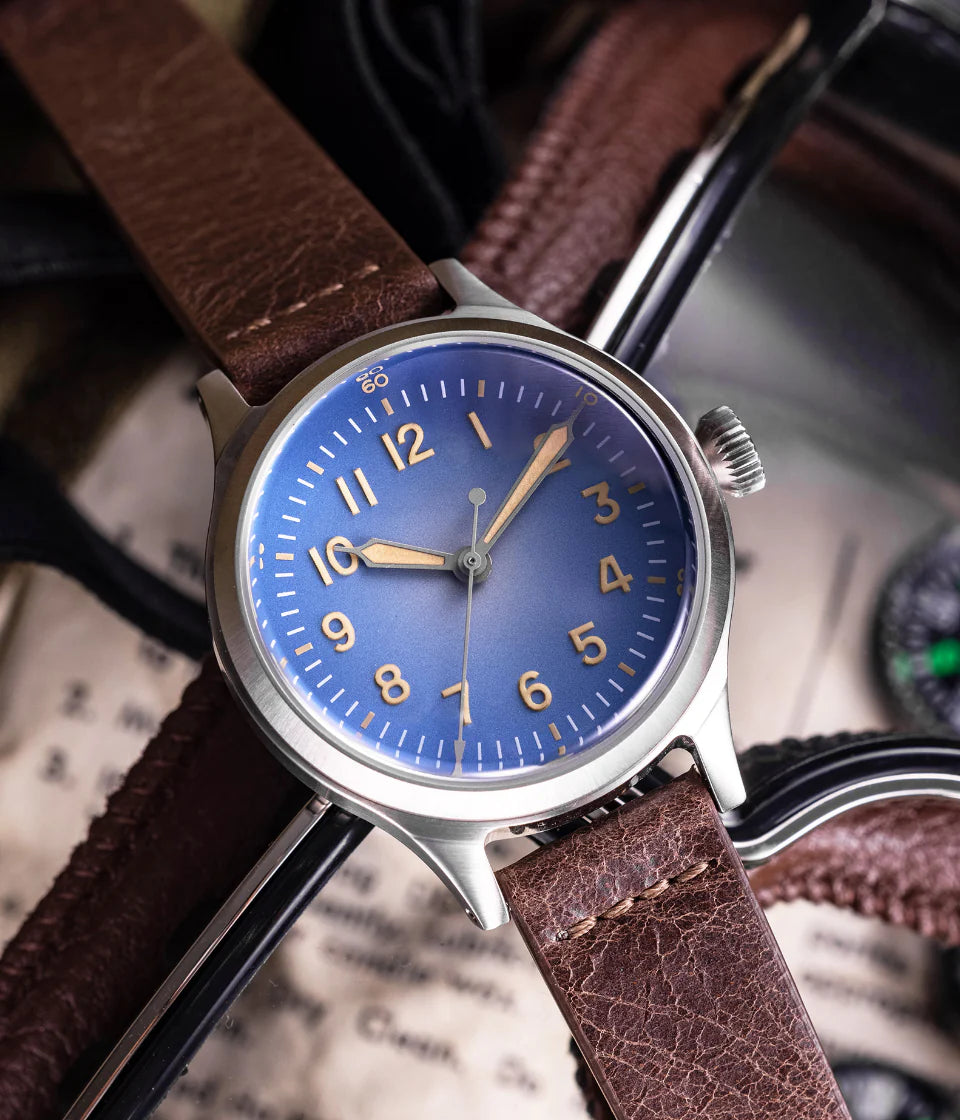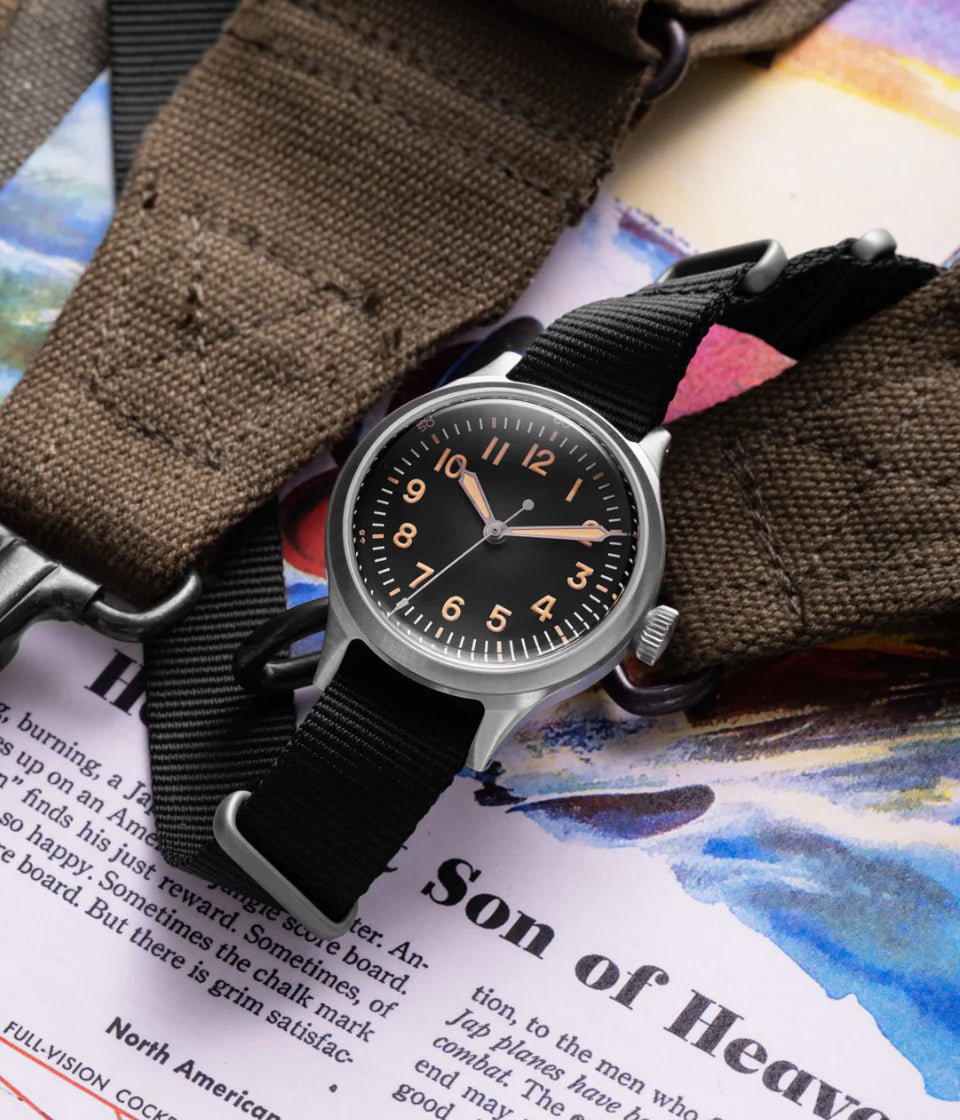 The A-2 Bud & Diz
The A-2 Bud Anderson
Featuring a black dial as a reference to the original color requirements of the A-17, the A-2 Bud Anderson is the more authentic design - this was a request from Bud himself. The caseback feautres a perfect re-edition of Bud's "Old Crow" P-51 Mustang. On top of that, we've been able to secure a piece of an actual P-51 Mustang that will ornate the caseaback as a numbered commemorative token.
The A-2 Bud & Diz
The A-2 Diz Laird
For Diz we took a bit more liberty in the design by inspiring the dial color from the original blue-gray colorway of the F4F WildCat. We've additionally customized the caseback extensively featuring Diz' F4F Wildcat engraved. We've also managed to integrate a piece of an original WW2 F4F Wildcat into the caseback as a numbered commemorative token
AN INFUSED HISTORICAL VALUE
A serialized piece of F4F or P-51 on each Caseback